MEET THE TEAM
Bozeman, Montana
Ty Matthews
Ground Crew / Video Editing / Rigger
I've made 37 rotations around the sun. 4 years experience in skydiving. Senior Parachute Rigger, Ground Safety Officer, and Manifest Extraordinaire. I currently have 500+ skydives. I am Coach Rated and working towards my Tandem and AFF-I
Sam Schultz
Pilot
Sam Schultz is the name, speed and gas burning are the game. My whole family are engineers so I had to break the mold and do something else. So here I am a pilot at large. Growing up in Montana on the ground has been quite the pleasure.  When we take to the air it gives a whole new Perspective of the Big Sky.
Michael Missroon
I started skydiving the summer of 2010 after making a tandem skydive in Central Illinois. Since then, I have jumped at over 40 drop zones completing 2,650+ skydives. My passion in skydiving includes parachute formations, wingsuit formations, and teaching newcomers to the sport to become licensed. I have also completed over 1,400 tandem skydives, helping to inspire others to become licensed skydivers.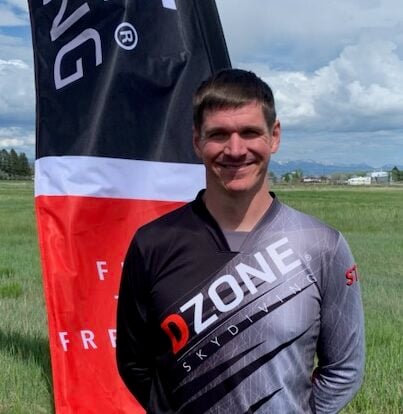 Mathew Bartlett
I started jumping as a paratrooper, and am currently focused on wingsuiting and rigging this season. I have a Master's degree in Clinical Social Work and a BA in History from the University of Montana. I am also a member of the Osprey Sport Parachute club.
Kyle Jones
I found my love for skydiving in 2013. I have completed 450 skydives and have been a part of the DZONE® family since 2016. I have also packed over 4000 parachutes! I spend my free time speed flying, backpacking and gold panning.
Eric Skroch
Instructor
I have been skydiving since 2002. I have over 4,000 jumps and hold the following ratings. TI, AFFI, Pro, Senior Rigger and S&TA. I am also a member of the Osprey Sport Parachute Club.
Ellis Ulery
Pilot
I'm originally from the great state of Ohio. I received my bachelor's from Bowling Green State University in Aviation and recently my MBA from Boise State University. I've been flying for the past seven years and I'm excited to be flying some awesome people for DZONE®. When I am not flying jumpers - I'm paragliding, climbing, swimming, or reading.
Connor McQuillan
Pilot
These Wild Montana Skies are giving this Jersey boy a home with the best work place views I could ask for. I've been flying for two years now and I'm happy to cart anyone up to 14,000 feet.